With the holidays coming up, you're going to see me talking a lot about ways to save, best deals, and more on gifts. I also want to help you save money on holiday meal prep.
When it comes to holiday prep, everyone has the food staples that are on the table, the turkey, cranberry sauce, yams, corn, etc., but what about alternatives that are more wholesome.
When it comes to eating more wholesome, it may not always be cost effective. You can save easily with WholesomeSavings.com on many of the food items you enjoy already.
Visit WholesomeSavings.com to enter their sweepstakes for a chance to win $2500 in prizes. If you see the below envelope, be sure to open it, as it contains many awesome coupons, just like the ones shown at the bottom of this post.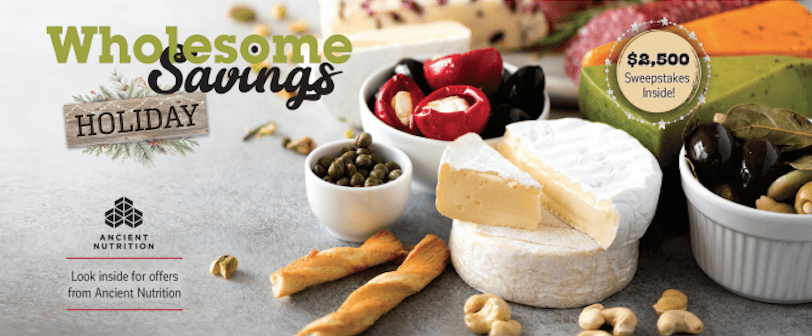 With a bit of creativity & planning, preparing healthy, delicious food is faster and easier than it may seem. A lot of food can be prepared ahead of time such as rolls, desserts, etc.
3 Reasons to Save on Holiday Meal Prep with Savings.com
Special Dietary Needs & Allergies
The benefit of holiday meal prep at home is that if you have special dietary or allergy restrictions such as limitations on sugar or gluten allergies, you can easily adjust the ingredients to fit your family's health needs. No need to stress if the restaurant has a low salt dish or if there is any extra sugar included in a dish.
Savings.com has great coupons available on natural & organic products from healthy brands, especially for those with special dietary & allergy needs that are all redeemable at your local Whole Foods Store.
Portion Control
One of the reasons that many people gain weight during the holiday is due to the portions that they indulge on while eating out while shopping and at holiday gatherings. When you eat in, you can create the appropriate amounts for you and your loved ones, eliminating unnecessary food intake.
Quality Time
Another benefit to dining in is the quality of time spent together. We all like to be taken care of at times so it's okay to eat out for special events. However, preparing home-cooked meals allows you to spend valued time with family.
Everyone can take part in meal preparation so it's a shared event. By allowing children to participate in meal planning and cooking you are teaching them valuable self-sufficiency skills. The ambiance is more conducive to talking.