This post is sponsored by Sivan Social. All comments and opinions are my own.
My mom always told me growing up that decorating your home is like showcasing your personality. Your perfect home decorating is about you. So when you decorate, decorate using your feelings, emotions, and use what you love. Even if it's not something anyone else may like or love. You live in the space, therefore you get to enjoy it.
I love decorating. Fall and winter are my favorite times of the year because I get to plan out what I want to do for each season and make it come to life in our home. But this past year, when we were hit with Covid, I couldn't bring myself to decorate at all. I was just too yucky and worn down that I just didn't have the energy or time.
When you're feeling beat, it can be hard to get your home looking festive. You might not have the energy or resources to decorate for all 4 seasons of the year and that's okay! There were often when I was growing up when my mom didn't feel like decorating, but she still did.
Recently we have been ripping out the carpeting, underlayment to reveal the original to the home hardwood flooring. While some of the floorboards need to be repaired or replaced, right now, we are leaving them be. We are stripping some of the painted woodwork down, and finally getting to refinishing our surprise door.
Our theme for our living room is going to be more farmhouse chic. I'm going for a lighter gray on the walls with white trim and the door after it is stripped of the current 20 layers of paint, will also get painted white.
Lately, I've been eyeing some of the gorgeous home decorations at Home Depot every time we go there for fixing something around the house. I always knew Home Depot had decor, but not like my type of decor, until recently. I've been in between the classic farmhouse rustic vibe and the new age farmhouse chic. I may not have the perfect home decorating style, but I can decorate perfectly for myself and my family.
I love this color scheme by Fab Mood. It is my ideal living room color scheme! It has my grays, with beautiful orange/brown/gold accents that tie the room in perfectly.
Perfect Home Decorating With Home Depot
You can easily pull off the look of perfect home decorating with Home Depot and bring classic style and functionality at a reasonable price.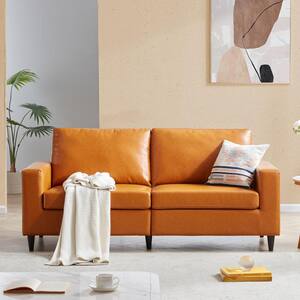 Nobles 75.2 in. Yellow Faux Leather 2-Seat Sofa with Thick Cushions
Add a stylish look to your living or family room with this great sofa. Fine PU Leather material, seat cushions filled with high resilience foam, and provide comfortable support for your body when seated, and easily regain their shape when you rise. Wood frame and durable legs make the sofa sets for living room can support the largest weight of 300lbs./seat, added stability and durability, can be used for a long time.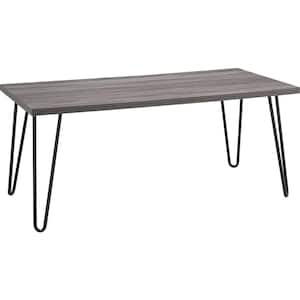 Montrose 42 in. Distressed Gray Oak Large Rectangle Particle Board Coffee Table
Complete the look of your den with the Ameriwood Home Montrose Coffee Table. Featuring a modern style, this coffee table will be an aesthetically appealing piece for your living space. A metal frame, adds a simple and industrial feature to your interior design. It features a wooden top, so it enhances your home with a timeless feel and natural beauty.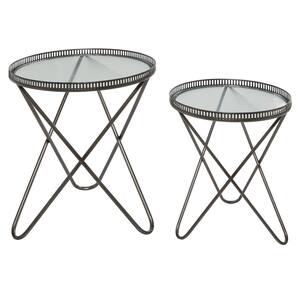 20 in. Grey Metal Industrial Accent Table 2 – Pieces
Features an industrial inspired design to make your space unique
This metal and glass side table set is made from solid iron and high strength glass materials
Feature dark silver iron construction with sturdy table tops
This round glass and metal side table set features 2 pieces of elegantly crafted solid iron base and round glass surface in an industrial style inspired design
Polar Shag White 5 ft. x 8 ft. Solid Area Rug
100% Polyester
No backing, rug pad (sold separately) recommended to help prevent shifting and sliding
Power loomed in Turkey
For an instant decorating makeover, this area rug is one of the easiest and most fashionable ways to refresh a room with character and style.
Available in multiple sizes and/or colors
Black Metal Contemporary Decorative Vase (Set of 2)
Add subtle yet stylish modernity to your tabletops or shelves with this set of 2 geometric vases, featuring chic matte black finishes. The solid metal construction offers an industrial effect while the triangular and trapezoidal silhouettes bring stylish geometric modern and contemporary styles. The solid black hue works with any color palette while adding bold contrast to light walls with loads of dimension.
Right now you can save up to 15% on trending styles during Decor Days at HomeDepot.com
Savings.com has partnered with Home Depot so that you can become 1 of 4 (Four) winners who will receive a $250 e-gift card from The Home Depot. to spend on your next decorating adventure! Just head over to Savings.com and enter Monday, September 20th at 12:00 AM PT to Thursday, September 23rd at 11:59 PM PT, and if you are picked as one of the lucky winners, be sure to use your new gift card towards some cozy decorations!
The winners will be chosen through a lottery drawing and notified on Friday, September 24th via the email address they used to enter.
See complete Official Rules for entry instructions, full prize descriptions, restrictions and other important details.