This post is sponsored by Savings.com
Do you know how to keep your guy active and warm this winter?
With winter coming there will be lots of cold days that simply make people want to stay inside and keep warm. Staying indoors is generally accompanied by the winter blues or possibly seasonal affective disorder.
Fortunately, there are a lot of things one can do to liven things up and keep themselves active in the winter even if it is a bit chilly outside. The following five tips will help you have an active winter and finally beat the winter blues.
Keep Your Guy Active & Warm This Winter
Join a Gym and Work out
Taking a class at a local gym will help you get out and about, meet new people, all while staying in shape or getting into better shape! This is great way to stay active over the winter. Workouts like yoga, pilates, or crossfit are all great ways to stay active and in shape.
They keep the blood pumping, mind strong and plus, out of the house at least a few times a week. If your guy can't get to the gym, bring the gym to him.
There are tons of videos on YouTube or Amazon Prime that will help keep your guy active this winter.
Go for a Bike Ride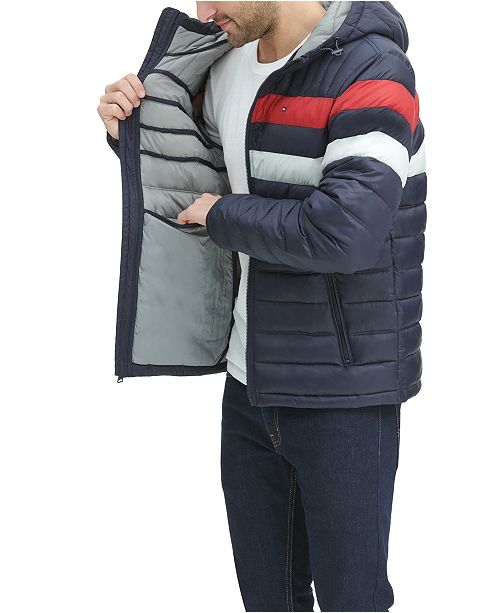 A bike ride is fun in the summertime and can be especially enjoyable during the winter because the cool air is refreshing. Just remember to bundle up before heading out on your winter bike ride so you do not get too cold or risk overexposure to the cold weather.
A great way to keep your man warm while enjoying the winter weather is to head over to Macy's and keep bundled up with Tommy Hilfiger
Men's Color Block Hooded Ski Coat.
Get 50-65% Off Men's Outerwear from Tommy Hilfiger & More at Macy's
(Sale Dates: 10/23/19 – 10/27/19)
Keep Your Guy Active by Going for Walks
Going for a walk is always a great way to get yourself in motion. It doesn't matter if it is a slow leisurely walk or a brisk one you will get benefits from walking and being active. Also, walking during the winter will help you burn some of those calories you might be eating more of.
Again, staying warm is key when you're outside, so make sure you keep your guy warm and stylish with Tommy Hilfiger Soft-Shell Hooded Bomber Jacket with Bib
Weekly Meeting with Friends
Scheduling a weekly meeting with friends at a coffee shop, bowling ally, sports bar or even at one of their homes is really a great way to get out of the house and enjoy yourself. If you make a point to do it at least once a week, not only are you being more active outside of the home, but you're also being social which also boosts your immune system.
Keep your man stylish while he's out with the guys with this GUESS
Men's Military-Inspired Coat with Plaid Detail
Plant a Winter Garden
If you like to be active in the garden in the spring and summer then there is no reason why you should stop just because the temperature drops.
A great idea to keep your guy warm and active in winter is to plant a winter garden. There are plenty of things to plant no matter what your region, just do a little research on a winter garden for your region and get started.
There are various plants that are known to keep the air clean & healthy no matter the time of year as well. If you live in a region that tends to get really really cold and dry, you may want to get a plant that can help with that.