With the holidays coming up and so many kids will be receiving new cell phones, laptops, tablets, or whatever, I wanted to touch base with the parents on how to monitor your child's devices without the fighting.
While most children do use their devices for good, some, don't. It's important to discuss with your child the importance of morally right decisions. Decisions that they make today, could affect their future.
Have you ever thought of needing to monitor your child's devices that they use on a daily basis?
What websites did your child visit this week?
Did any of those websites contain porn, illegal content, or content that you would not allow your child to be exposed to?
What did your child receive in their email this week?
Did someone send them pornography?
Did anyone approach your child about sex in an Internet chat room this week?
Did someone invite them to secretly meet with them offline?
Was your child approached through his or her social media apps (Facebook, Instagram, Snapchat, TikTok, WhatsApp) about sex this week?
If you think that none of that can happen to your child because you have some sort of content filter installed, I'm sorry, but you're mistaken.
I found out the hard way, that my sons learned how to override the filters, disable monitoring programs, or just go on a friend's device.
As a parent, you have to be proactive. If you did not know the answers to those questions I mentioned above then your child is at risk of being taken advantage of by a child sex predator, or even bullied on different social media outlets.
If that does not concern you it should!
If your child is trading in pirated music, movies, and software, you can be sued for thousands of dollars. Do you really think saying, "You should not do that" is enough if there is a song or a movie they really want and they know you will never find out about it?
How to Monitor Your Child's Devices Without Fighting
And whom are they talking to in that chatroom or on their instant messenger? Is it a friend they met online or someone who is out to do them harm? Do you need something to happen before you do anything about it?
Talk About Expectations & Concerns
Device Contract
Another great way to monitor your child's devices without the fighting or stress is to have a contract that spells out what your child is allowed to do and not allowed to do with their devices. When my oldest was handed over his first phone, I made him sign a contract that I wrote up. It was a basic contract, which he still thinks to this day was overkill, however, I didn't then and still don't.
The contract had basic rules, the phone gets turned off while in school, or at the very least put on silent. As soon as school has ended, the phone ringer gets turned back on and a text needs to be sent stating he was on his way home. No sending inappropriate texts or images, and no looking at pornography.
While we are a very open-minded home and have always been open about sex topics with both of our sons, we've made it extremely clear that it's not appropriate to send sexual content over any device.
Parental Controls
Parental controls have come a long way over the years. I remember when I was in high school, the biggest concern to my parents were viruses. Not that I would somehow stumble across inappropriate content, chat rooms with pedophiles or anything of that nature.
Today, the internet is so advance that the least of our concerns are viruses, worms, or malware. While we are concerned about those things, we're more concerned about sexual predators or inappropriate content that our children may come across, and of course, cyberbullying.
Child sex predators online are very, very smart. Smarter than your child. They can chat with your child for months gathering bits and pieces of personal information they can use to stalk or kidnap your child.
Spammers send out porn to every email address they can get. Is your child's email address among them. Is your child being sent pornography by email? Does it concern you that they might?
mSpy is a leading parental control app for your child's device that allows parents to monitor text messages, calls, current GPS locations, Snapchat, WhatsApp and much more.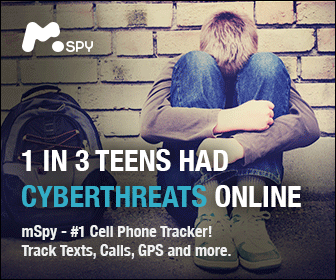 Remotely monitor all your kid`s smartphone activities
WhatsApp, Snapchat, Facebook, and other messaging apps
Calls, SMS, GPS tracking and 25 more features
Compatible with Android, iOS, Windows PC and Mac OS
Quick installation, user-friendly interface
24/7 multi-language support