When it comes to decorating, I am sure you are even doing a few DIY projects as well. With a few simple supplies and tools, it will be easy to freshen up your home with Home Depot. It is so easy to add character and curb appeal to your home at a reasonable price and make it the envy of the neighborhood and any seasonal gatherings.
6 PRACTICAL WAYS TO FRESHEN UP YOUR HOME WITH HOME DEPOT
If you are anything like me, you are already thinking about decorating for the holidays. It is so easy to freshen up your home with Home Depot as they have everything in one place. The cleaning products, light fixtures, and much more. Plus, you can even purchase a few new holiday decorations for your home there also.
Go Through and Toss The Junk
Every 3 or 4 months, usually when the seasons change, I go through our home and start packing up or throwing away items that we no longer use. If the item can not be sold, used again, or is beyond repair, I toss it into the garbage. If I can sell it, I do that through Facebook Marketplace. If it is a seasonal item, I will pack it up with the rest of the seasonal items and put it in the garage attic. It is the best way to keep the home fresh by rotating decorations.
Do a Deep Clean
While you are at it tossing the junk, packing up, and so on. It is a great time to do a deep clean. From the walls to the pictures on the walls, the carpets, bathrooms, windows (in and outside), and furniture. I do what I call "Super Deep Cleans" every 3 or 4 months also. While we do monthly deep cleans, these super deep cleans get all of the nooks and crannies that you may miss on the monthly cleans, plus, you can do the re-arranging at this time also.
Small Details Make A Big Difference
Small details like new throw pillows, switching from a shipping box to cute baskets for storage, or even adding a couple of new tabletop items like candles or decorative trays can make all of the difference in a space. Switching out items on a wall can keep things fresh as well.
Right now it is easy to freshen up your home with Home Depot during their Pre-Black Friday sale going on right now with up to 30% off Home Decor Items like this gorgeous Peaceful Buddha 3D Print Wall Art. You can find this along with many other items to freshen up your home just in time for the holidays.
If you want to be a little more drastic, you can try living up the interior with a fresh coat or two of paint. Even if you use the same color you already have on the walls, you will be surprised how much a fresh coat does wonders for freshening up and making a space look nice again. It is so easy to freshen up your home with Home Depot since their paint department has thousands of colors and combinations to choose from.
Clean Up The Outside Yard
Pull the weeds, rake up leaves, and pick up all of the trash or litter that has blown onto your property. Now is also a great time, if you have not done it already, to lay down new grass seed, spray the weeds, and do some weatherization for the grass. If you have a vegetable garden, get rid of the plants, weeds, and instead of bagging your leaves you can lay down a layer of leaves that will help keep weeds from growing and the leaves will help keep the pH levels just right for spring planting.
Outside Home Winter Inspection
Is it chipping, staining, or rotting? Do you see any holes or cracks in the siding or brick that need to be sealed? Cleaning up and or patching the siding can be an easy and simple way to freshen up your home with Home Depot. Your siding may just need a power wash or it may need to be replaced. If it just needs to be washed and sealed, you will want to seal it first, then wash so that you do not cause any moisture damage between the home and the siding.
Get up on the roof and check for any loose, cracked, curling, or broken shingles. Asphalt shingles can last many years depending on the quality of the shingle, the slope of the roof, and proper ventilation. If any are spotted, it may be time to replace your roof. Consider asphalt shingles as new styles can add dimensional appeal to your home. They are long-lasting and feature a Class A fire rating.
Freshen Up Your Home With Home Depot
It's easy to freshen up your home this season when Home Depot has an awesome Pre-Black Friday sale going on right now giving you up to 35% off Home Decor.
Enter to win One of FIVE (5) $100 E-Gift Cards from Home Depot today to help you freshen up your home this upcoming holiday season.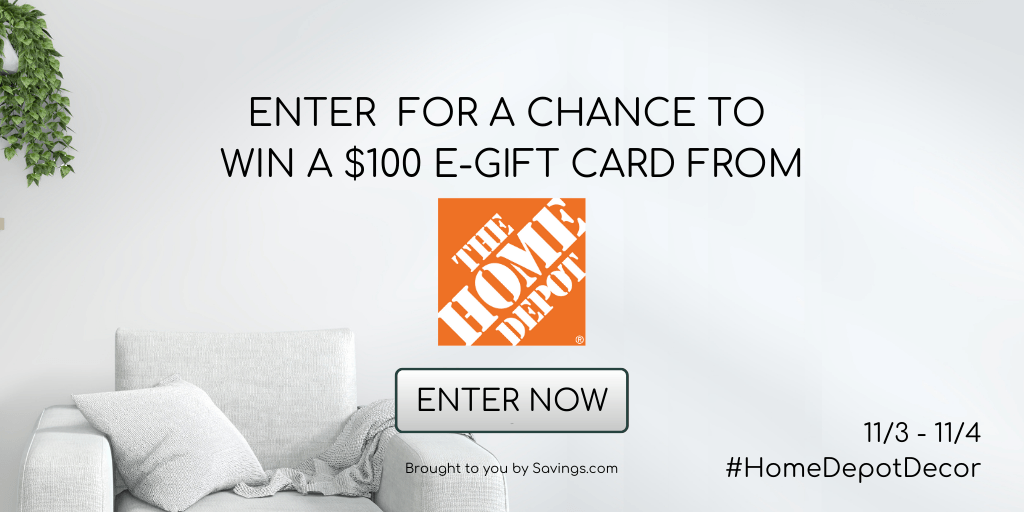 Giveaway Guidelines:
Five (5) winners will receive a $100 e-gift card from Home Depot.
Users enter the giveaway by heading to the Home Depot merchant page on Savings.com and submitting their email address on the form on the page.
The winners will be chosen through a lottery drawing and notified on Thursday, November 5th via the email address they used to enter.
See complete Official Rules for entry instructions, full prize descriptions, restrictions, and other important details.