Some of the links in the post below are "affiliate links." This means if you click on the link and purchase the item, I will receive an affiliate commission. Regardless, I only recommend products or services I  believe will add value to my readers.
My family consists of gamers, techies or geeks. And I LOVE IT! That's why this Holiday Gift Guide For the Tech & Gamer is probably my favorite.
My 13yr old is obsessed with FortNite and my Oldest loves the racing games like Grand Theft Auto 5 or Forza. My husband loves Final Fantasy Games (he pretty much loves all of them) and my obsession with The Elder Scrolls Series or Assassin's Creed.
Gaming aside, I love tech.
ALL things tech! If I could have everything, I would. I'd probably have all of the latest computers, tablets, cell phones, smart devices, etc. My husband always rolls his eyes whenever I talk about swapping out the old out dated thermostats for new smart thermostats.
Now, the geeky? We're Harry Potter, Supernatural, Marvel, Archie Comics, and Disney geeks. We own just about every book and movies out of series. My youngest LOVES reading, well used to love reading before FortNite took over his life! (Ha ha)
Below you'll find some of our favorite geeky things, or things that will help you keep geekin' on. (Hydration is important yo!)
2018 Holiday Gift Guide For the Tech & Gamer
Contigo 40 oz. Ashland Autospout Water Bottle
Gotta keep the gamer/techy hydrated. I have this bottle (in a purple/pinkish color) and I ABSOLUTELY Love it! When I'm gaming, I tend to forget to eat or drink. With this 40oz bottle, you at least have a little time before you have to refill. And that's usually when it's time to hit the bathroom.
$17.25 at Wal-Mart
Anyone who plays FortNite needs this.
You could probably make them floss, do the hype or even the Orange Justice…. Why I know these is beyond me. Send help in boxes of wine please!
$24.99 on Amazon
Super Mario Encyclopedia: The Official Guide to the First 30 Years
If your gamer grew up in the 80's and 90's, they know about Super Mario, help them relive their childhood with this book!
$18.39 on Amazon
Every gamer knows the deal. Your controller, keyboard, device, etc has to be fully charged. Nothing sucks more than being in a battle and your battery dies.
Get this for $16.99 on Amazon
NBA 2K18 Legend Edition Gold – [Digital]
This is for the sports gamer. This legend game includes several digital items including Shaq Attaq Shoes, Rookie Shaq Jersey, and much more. If you have someone who loves basketball and has played the previous NBA games, get this legend edition they are sure to enjoy.
Available at Best Buy for $149.99
Xbox Elite Wireless Controller – $142.99 on Amazon
Elite PS4 Controller
 – $48.99 on Amazon
Elite Gaming Controllers
Elite controller adapts to your hand size and play style with configurations that can improve accuracy, speed, and reach with thumbsticks of different shapes and sizes. Swap between a variety of metal thumbsticks and D-pads for personalized control and ergonomics.
Red Redemption 2
I won't pretend to know anything about this game, but my son and husband tell me that it's a pretty sweet game. I'm guessing there is some old west shooting? No clue, I don't play this type of game.
Both are available at Best Buy for $99.99
Assassin's Creed: Odyssey
Assassin's Creed: Odyssey is the eleventh major installment, and twentieth overall, in the Assassin's Creed series and the successor to 2017's Assassin's Creed Origins.
Get it at Best Buy for $59.99
The Legend of Zelda: Hyrule Historia
Contains an unparalleled collection of historical information on The Legend of Zelda franchise. This handsome hardcover contains never-before-seen concept art, the full history of Hyrule, the official chronology of the games, and much more!
Yamaha Soundbar
Get outstanding sound for those games, videos, movies and more. This Yamaha 2.1 Channel Soundbar with 3″ subwoofers will give your gamer the sound they want while playing their games.
Get it at Best Buy for $179.99
X Rocker Gaming Chair
This gaming chair will probably mean you'll have to start serving all meals to your gamer because they are not going to want to move. It comes with Bluetooth 2.1 sound.
Turtle Beach Elite Atlas Pro Performance PC Gaming Headset
When it comes to gaming headsets, Turtle Beach is one of the bests. All of the bigger gamers like Scump (Black Ops) from OpTic and Ninja (FortNite) use Turtle Beach Headsets. (Seriously, don't ask how I know these things. I blame this on my husband 13yr old son)
You can get this headset on Amazon for $89.95
Samsung Galaxy S9+ 128GB
Okay, so I'm putting this one on here because it may, or may not be, the phone that I'm kind of swooning over. Remember, I told you I'm a HUGE latest techy person. (Yeah I know the Note 9 just came out, but I LOVE LOVE the S9's look, features, etc.).
Get it unlocked at Best Buy starting at $789.99
Samsung Gear VR w/Controller
I've always wanted to play a game using the VR Gear. From what I've heard from several other gamers is that the Samsung Gear VR set is one of the best out there. It's compatible with the Galaxy Note8, Note5, S9, S8, S7, S6 (International Version) and is even Note9 Ready.
Get it on Amazon starting at $89.99
Polaroid Cube+ 1440p Mini Lifestyle Action Camera
If your gamer is a streamer on Twitch, they need this little camera. Features include time delay, photo burst, time lapse and slow motion camera settings; resolution and frame-rate selection; viewing, editing, saving, printing and sharing photos on social networks; and more.
Nintendo Pokemon Go Plus
Okay for all of the Pokemon Go Players! Check out this small device that lets you enjoy Pokémon GO while you're on the move and not looking at your smartphone. Compatible with both iOS and Android*, Pokémon GO Plus connects to smartphones via Bluetooth low energy and notifies players about nearby Pokémon and PokéStops.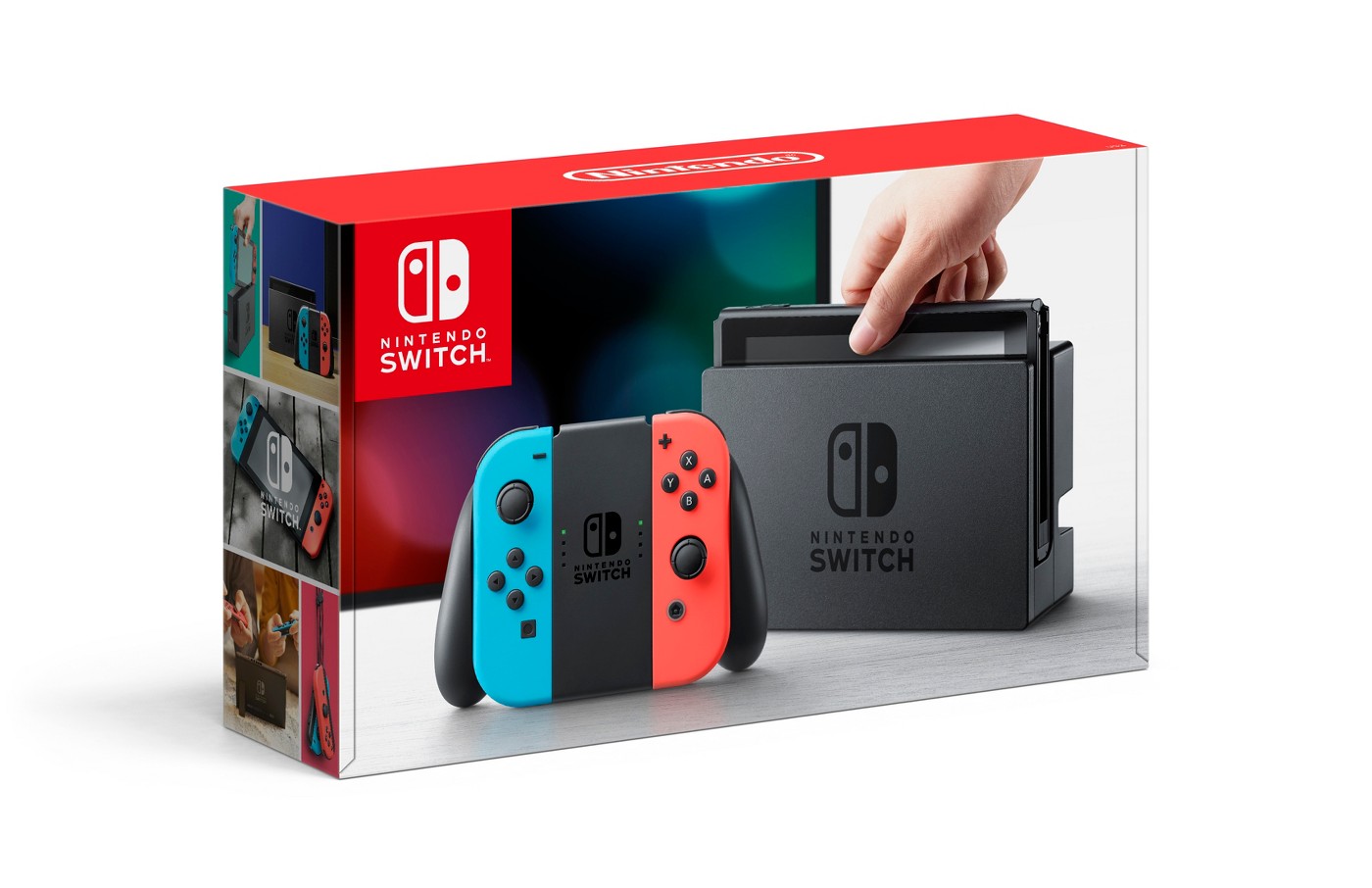 Nintendo Switch w/ Neon Blue & Neon Red Joy-Con
The mobility of a handheld is now added to the power of a home gaming system, with unprecedented new play styles brought to life by the two new Joy-Con controllers. You can link together up to 8 Nintendo Switch systems for local face-to-face multiplayer.
Get it at GameStop for $269.99 
Xbox One X 1Tb + PubG Bundle (digital code)
The latest Xbox One console with all of the awesome updates & upgrades along with the game PubG all in an awesome bundle that your gamer will flip for!
Get it on Amazon starting at $439.99
Nintendo Entertainment System – Classic Edition
Flashback to when you had to blow the dust out of the games, used the gun to shoot that annoying duck, and make sure that Mario could save the princess! The Classic NES is making a come back!
Playstation 4 Pro 1tb with 12 Month Playstation Plus Membership
You get the 1tb console, dualshock wireless controller and 12 months of Playstation Plus Membership.