Some of the links in the post below are "affiliate links." This means if you click on the link and purchase the item, I will receive an affiliate commission. Regardless, I only recommend products or services I  believe will add value to my readers.
So this holiday gift guide for the crafty & DIYer is probably my favorite
I dabble a little in some crafty fun and even a little DIY. Growing up I kinda had no choice with a mom who had the knack for putting together two or three things that you would never think to put together and made them work.
If you've ever watched any of my live videos over on my Facebook page, you'll see a few of the videos that I have done in the past and at least one I did a lil' crafty something live.
There is not a single type of craft that is not mixed with at least something else. All crafts, no matter what have creativity, personality, and a story. For that, all crafts (even if it's not your "thing" or style) need to be praised and shared. I have a friend of mine who is a fantastic painter. She's just absolutely fantastic. I wish I could paint like she does, but I can't. I'm a use what cha got and create type of girl. But sometimes I still suck at it.
Regardless, every crafty needs certain things in their collection of craft supplies. Below in this year's Holiday Gift Guide for Crafty & DIYers are just a few of my favorite things
2018 Holiday Gift Guide For the Crafty or DIYer
Paper Mate InkJoy Ballpoint Pens
These are one of my favorite pens. I write notes in colors. It's been shown that if you write notes in certain colors, you retain the information. With crafting, having colorful markers or pens help keep things organized, or adds a bit more color to a project.
Get them at Sam's Club starting at $8.98 for a 24 pack
Brush Tip Markers
Crayola Brush-Tip Markers let you control the width of your lines with the pressure of your hand. Each marker features a flexible tip that can create fine lines as well as broad strokes. Simply apply more pressure for thicker strokes and lighten up for fine lines. With 32 brilliant colors to choose from, these versatile art tools are perfect for adult coloring, writing, drawing, and Crayoligraphy fun.
Get them at Crayola starting at $17.99
Sloth Tape Dispenser
Okay, tell me this is not adorable and I'm going to cry… seriously though, I love different types of tape dispensers. (I have an elephant one, but this sloth one would look awesome on my desk, also.) Nothing is worse than trying to reach for the tape and it get all messed up. A tape dispenser is EVERY crafty person's un-sung hero in the craft room.
Washi Tape
Use your tape to decorate… over 32 feet on every roll! Decorative tape is the perfect size width for wrapping presents, and with beautiful assorted designs, the tape adds its own sense of style. Plus, it's ideal for adding a decorative touch to vases, candle-holders, binders, pencil cups, and so much more… the possibilities are endless. Perfect for classrooms, craft stations, gift wrapping stations, and every savvy crafty person.
Get a box of 48 rolls (asst) at Dollar Tree for $48
Professional 16 Pocket Canvas Work Apron
Look, when I'm doing things I always put things in my pocket, hair, behind my ear, and always forget about them. UNTIL it's either laundry day or I'm going to bed and get stabbed in my temple with a pen. Your crafty person will love you forever with a good quality apron that doesn't break their back or cause neck issues. This apron from NoCry does just that with 16 tool pockets. (Oh and it's full adjustable, waterproof and protective)
Get it on Amazon starting at $13.95
Obsessive Crafting Disorder
I don't know about your crafty loved one…. but I'm obsessed. Sometimes a tad bit "hoardish" (yeah I know it's not a word, spell check is yelling at me), but I NEEDS all of the crafty fun stuff. This coffee mug is perfect for anyone who is like me, a crafty person who is a tiny bit (or overly) obsessed!
Tim Holtz Cling Rubber Stamp Set – Crazy Talk
These red rubber stamps come mounted on cling foam so you can use them with any acrylic block (sold separately). Great for using with Tim's signature distressing techniques! Stamps come on a 3-hole punched sheet for easy storage in the Tim Holtz Stamp Storage Binder (sold separately)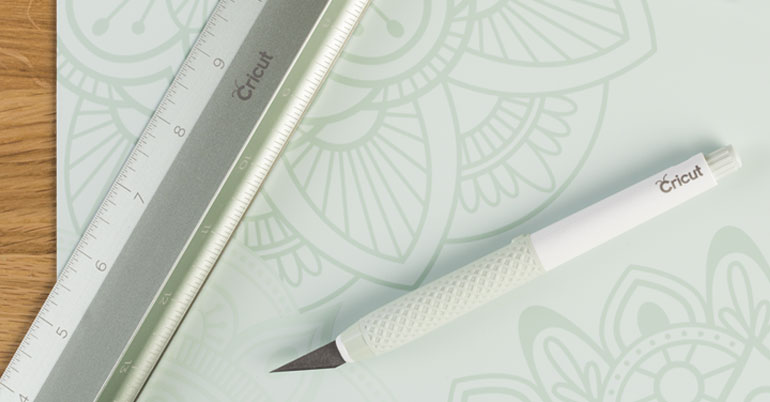 Essential Crafting Tools
Tweezers to lift and secure delicate material. Weeder to remove tiny negative cuts. Scissors with protective blade cover. Spatula to lift cuts from the mat. Scraper to burnish material and clean all cutting mats. Scoring stylus to add fold lines to cards and envelopes. High-quality trimmer for materials up to 12″ wide. Replacement blade for the trimmer. Scoring blade allows you to add score lines to your projects
Get it on Cricut.com starting at $25
The Cricut Maker – Rose
The ultimate smart cutting machine. With the ability to use more advanced tools, Cricut Maker gives you the freedom to make virtually any DIY or crafty project you can imagine, from 3D art to home decor, jewelry, iron-on, vinyl, paper projects, and so much more. It has the tools to cut hundreds of materials quickly and accurately, from the most delicate fabric and paper to matboard and leather. Use the Rotary Blade to cut fabric for a sewing project — without backing material.
Get it on Cricut.com starting at $349.99
Janome Sewist 500 Sewing Machine
This versatile machine offers 25 stretch and utility stitches, an automatic 1-step buttonhole, and convertible free arm and is perfect for the crafty seamstress or aspiring sewer. Practical features like accessory storage and a top loading bobbin with see-thru window will make creating with the Sewist 500 practically effortless.
Get this awesome machine at JoAnn starting at $369.00
DeWalt 20v Max Premium 5 Tool Combo Kit
I won't act like I know all of the tools in this set, nor do I know what to do with a couple of them. However I do know that if you have a DIY'er, they need power tools and this is a great kit to start with.
Comes with: 20V MAX Premium Hammerdrill, 20V MAX Reciprocating Saw, 20V MAX Reciprocating Saw, 20V MAX 1/4″ Impact Driver, 20V MAX 7-1/4″ Circular Saw, 20V MAX LED Work Light, (2) 20V MAX* Lithium Ion 3.0 Ah Battery Packs, Fast Charger, 360° Side Handle, Belt Hook, Carbide Tipped Blade, Contractor Bag.
Get it on Amazon starting at $399.00
Merchmakr All-in-One Screen Printing Kit for T-Shirts
This super compact screen printing system that includes everything you need to get started making your own T-shirts except the shirts themselves. Unlike regular screen printing kits, it has an exposure unit for making your own screen stencils, and it does multi-color designs because it has our revolutionary patent-pending HotSwap registration system.
What is HotSwap? It's a special clamp we designed to let you change out screens fast, along with a screen registration tab that helps line up the colors in your designs quickly.
Get it on Amazon starting at $449.00
Double Storage Cart W/15 Drawers
This rolling cart is ideal for scrapbookers, card makers, quilters, sewers, knitters and crocheters and just about anyone else with a hobby. They are great for storing large and small tools, embellishments, punches, yarns, knitting needles & crochet hooks, thread, fabric & scraps, stamps, paper and much more. The chrome frame and locking swivel casters are sturdy and stylish combined with the multi-colored drawers.
Get it at JoAnn starting at $98.39
Hot Glue Gun
Every single craft room HAS TO HAVE a hot glue gun. If you're not using it for projects, you're using to to fix something you broke in the middle of doing project. Trust me a good hot glue gun is needed for EVERY craft room.
Get this on Amazon starting at $15.95
Mod Podge Starter Set
Did you know that there are 11 different Mod Podge formulas? I use them all of the time with a couple of the crafts I do. This is another staple in any craft room. The starter set contains the original gloss, original matte, sparkle, outdoor and paper matte.
You can get it on Amazon starting at $11.88
Glitter Shaker Jar Craft Set
I know that glitter is known as the "STD" of the crafting community, however it's still something that many people keep in their crafting supplies for a "just in case" project that is needed.
Bluprint Box: Knitting
This box contains all the supplies you need for your first knitting projects, including super-soft yarn, easy-read patterns, and more! Plus, they're all packed into a convenient carrying case so you can bring your projects on the go.
Bluprint Box: Sewing
We've rounded up everything your loved one needs for their first projects, including the fabrics, interfacing, patterns, and professional tools! We're excited to see what they stitch up. Once you buy the kit for that special someone, they will be able to also take a sewing class to help them with their kit.
Get it now on Craftsy for $130
Bluprint box: Painting with Watercolors
This box will help your crafty loved one hit the ground running with high-quality paints that glide effortlessly onto their watercolor paper, curated brushes, and more! We're excited to see what they create with the expertise of watercolor artist Kateri Ewing — so buy the kit for them and have them head on over to our Startup Library: Painting With Watercolors class class to dive in.
Get it now on Craftsy for $150